The Unfolding Sustainability Generation
Ecology Prime is pleased to share the exceptional work and unique perspective of seven bright minds from the Whitman School of Management, Syracuse University, Sustainable Enterprise course, of Fall 2020. Individually, the points of view shared by these independent thinkers, are timely and unique. Collectively, these voices beckon to a broader generational shift that has been underway, and which is becoming more inclusive, diverse, and focused on a shared pursuit of a more sustainable future.
Mark Coleman, adjunct instructor of Sustainable Enterprise and an award-winning author of three books on sustainability, introduced a class of 29 students to Sustainable Enterprise. The course's content, purpose, and learning objectives are focused on providing the tools, methods, and understanding of how systemic changes influence business and entrepreneurs and consequentially, how business and entrepreneurs address the needs of society and create new paradigms through sustainable value. The course is part of a broader curriculum which prepares students to engage in transdisciplinary collaboration to develop sustainable solutions to complex organizational challenges. The essays and video presented here over the next weeks were submitted as the Sustainable Enterprise course's final projects.
_____________________________
Revive Fashion: A sustainable solution to fast fashion waste
By Josh Katowitz
Revive Fashion strives to close the loop in Fast Fashion waste. We give new life to past styles by reducing, reusing, recycling, recreating and reviving clothing. Our mission and passion is to balance fashion trends with sustainability in order to protect the planet and our communities.
_____________________________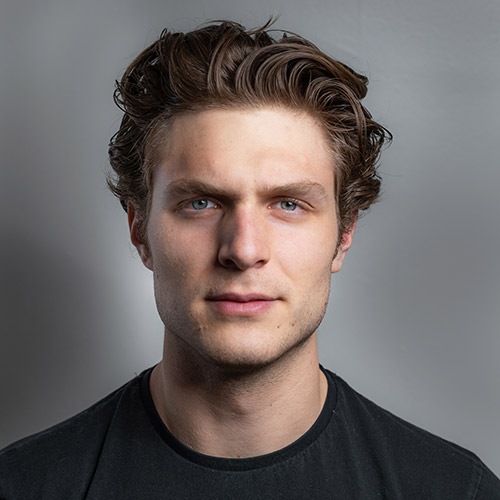 Joshua Katowitz is a senior at Syracuse University studying Art Video, Visual Culture, and Entrepreneurship. His current work uses video as a medium to focus on the intersection of fashion, technology, tactility, and sustainability. His skills extend beyond videography and editing to the design and fabrication of functional wearables, mechanical engineering, textile repurposing, and more. His passion is to identify, create, and build a sustainable business that incorporates these skills and provides rewarding solutions and opportunities for others.
______________________________
Feature Image Photo Credits
Students from Left to Right:
Jared Simon, Madison Covino, Zachary Fredendall, Stephanie Pearson, Joshua Simoncic, Camryn Lawyea, Josh Katowitz
Composite Image
Buckminster Fuller – Montreal Biosphere, 1967 – Photo by Cédric ThévenetCC Wikimedia Commons
Disposable cups – Photo by Ann H. – CC Pexels
Box of face masks – Photo by Ivan Samkov – CC Pexels
Rainbow – Public Domain Pictures CC
Plastic bottles – Photo by Magda Ehlers – CC Pexels
Girl with facemask – Photo by Maksim Goncharenok CC Pexels
Path with girl – Photo by Vlad Bagacian – CC Pexels
Ocean pollution – Photo by Artem Beliaikin – Pexels
______________________________