Welcome to the Ecology Prime Channel, home of Ecology Prime's podcast programming and other media offerings including video and music. We want EPC to be your destination for a rich and edifying experience as we help people to become more informed on the pressing issues of our time.
Please check in with EPC often as we continue to grow and offer more insightful programming!
________________________________________________________
Thank You to Our Generous Sponsors!

________________________________________________________
Circle for Original Thinking ~ Podcast Series
with Glenn Aparicio Parry
Welcome to Circle for Original Thinking, America's electronic talking circle for visionary thinkers, an open forum for fresh ideas and timeless wisdom applied to today's political and ecological challenges. Each week we bring together creative thinkers from a variety of different traditions, asking the hard questions on the important issues of the day: political polarization, climate change, virulent viruses, and other symptoms of humanity being out of balance with the natural world. Our goal is to create a new and improved version of E Pluribus Unum, from the many to the one—and this time not leave anybody out. Join us as we embark on this quest.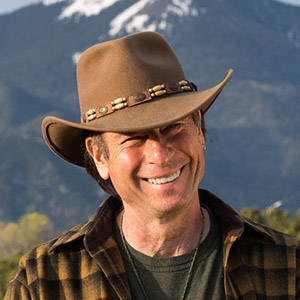 Our host, Glenn Aparicio Parry, PhD, of Basque, Aragon Spanish, and Jewish descent, is the author of Original Politics: Making America Sacred Again (SelectBooks, 2020) and the Nautilus award-winning Original Thinking: A Radical Revisioning of Time, Humanity, and Nature (North Atlantic Books, 2015). Parry is an educator, ecopsychologist, and political philosopher whose passion is to reform thinking and society into a coherent, cohesive, whole. The founder and past president of the SEED Institute, Parry is currently the director of a grass-roots think tank, the Circle for Original Thinking and is debuting this podcast series of the same name in conjunction with Ecology Prime. He has lived in northern New Mexico since 1994. www.originalpolitics.us
___________________________
COVID 19: The Big Ecological Picture
The problem with modern politics is that it excludes nature in its planning. Then, nature imposes her will—as she is doing now with the COVID-19 outbreak. What is the message and the learning in the emergence of the virus at this time? The spiritual elders of Colombia, the Mamos, are some of the few people who address the underlying causes to today's crisis. What does the virus mean not just in terms of the survival of the human species, but for all of nature? Mamo Daiwiku will be joined by Dr. Amanda Bernal-Carlo, a biologist who works closely with the Mamos, and Susan Kaiulani Stanton (Haudenosaunee/Native Hawaiian), founder of Grandmothers Circle the Earth Foundation, for an enlightening big picture overview.
___________________________
Native American Contribution to the Founding Values of the Nation
To recreate a whole and sacred America, it is important to piece together the forgotten fragments of history that are currently keeping the country divided. The most significant forgotten piece is the profound effect Native America had on the founding values of this nation.
Join Oren Lyons, Faithkeeper of the Turtle Clan of the Onondaga Nation, author of Exiled in the Land of the Free: Democracy, Indian Nations, and the US Constitution, and Bruce Johansen, author of Forgotten Founders: How the American Indian Helped Shape Democracy, for a scintillating peak into the true history of America.
LISTEN TO THE PODCAST – PART ONE
___________________________
Native American Influence on the Founding Mothers
Native Americans not only influenced the founding fathers, they also inspired the 'founding mothers': 19th century women like Elizabeth Cady Stanton, Lucretia Mott, and Matilda Gage. These women paid taxes but could not vote, could not run for office, had no right of divorce, and should they separate from their husband, were returned to them by police like runaway slaves. Native women, on the other hand, were fully equal in their society and played an integral role in political affairs and in keeping harmony with nature. Learn the true story from Congresswoman Deb Haaland, one of only two Native American women newly elected to the US Congress, and Sally Roesch Wagner, author of Sisters in Spirit: Haudenosaunee (Iroquois) Influence on Early American Feminists.
___________________________
Black Lives Matter: America Faces the Music of Diversity
E Pluribus Unum–from the many to the one—seemingly describes a republic based on unity in diversity. Yet Thomas Jefferson, the same person who wrote "All men are created equal," owned 600 slaves during his lifetime. How can we reconcile such incongruence? In previous podcasts we provided some clues, including the little known fact that the high-minded values of liberty, equality, and natural rights were influenced by, and often directly appropriated from, Native American societies that were truly egalitarian. But the founding fathers only appropriated what they understood or wanted to include. Specifically, they left out women and people of color—in so doing, they created an American shadow. A significant part of our history has been repressed or marginalized as a way of protecting white male privilege, a history we are only beginning to face. Strangely enough, we can thank the Donald Trump presidency for acting as a catalyst in revealing this American shadow. This has been dangerous because it has given license to previously suppressed forces to openly hate, but it has also been an opportunity to see America as it really is—and maybe to change.
________________________________________________________
Native American Leadership and the Art of Collaboration
Under colonization, traditional forms of inclusive, consensus-based Native American governance were systematically replaced with Western forms of centralized, top-down leadership. Women, who once held an integral role in the political processes of many tribal nations, were pushed out or marginalized. Then, LaDonna Harris came along. Working with Indian societies to restore self-determination, and working with the federal government to improve the efficacy of tribal sovereignty, Harris has done much to revitalize traditional modes of tribal leadership, including for women. Harris would be the first to deflect credit away from herself, because all her work has been rooted in collaboration and any success she has achieved is because of the kinds of people she has brought together. Her work has been a model for inclusive, participatory leadership. And that model of leadership is what we will be talking about on this podcast edition of Circle for Original Thinking.
________________________________________________________
True Storytelling and the Legacy of Law and Order
The nation appears to be on the brink of civil war, if not already in it. With polarization as bad as at any time in our nation's history, how can we stop the violence? Discussions about "law and order" ordinarily end up promoting division and triggering historical trauma. Is there a way to stop the cycle of violence and heal victims and perpetrators alike? Can the truth set us free? If so, how do we go about telling the story? And who gets to tell it?
As challenging as this time is, with the underbelly of America exposed, there is also an opportunity to see America as it really is. The first step in changing anything is to see it for what it is and then to create a new story that acknowledges the truth and envisions a better future.
________________________________________________________
Oral Tradition and Climate Change
Since time immemorial, people have been telling stories. Storytelling has served as a way of building coherent, cohesive community. It is also a way to pass down wisdom from earlier generations for the benefit of future generations. The wisdom of storytelling could be applied to today's ecological challenges, such as climate change. But this has not occurred often enough.
When it comes to climate change, there has been a rush to rely on modern science. Science is the accepted means for predicting and controlling the weather. But the discipline of climate science has a very short history. We have been only recording daily temperatures for less than a century-and-a-half.
The oral tradition, on the other hand, has been recording changes to the climate for millennia. How can storytelling augment the work of climate science in understanding what is unfolding today? How can traditional stories provide the larger wisdom we need to reset our imbalance with the natural world? Join us as we explore the continuing relevance of storytelling today, with our guest storytellers Regina Ress and Valentina Ortiz.
________________________________________________________
In Honor of RBG
This week, in honor of Ruth Bader Ginsburg's passing, we do not have any guests on the program. Instead, Glenn Aparicio Parry offers his personal reflections on RBG in the context of American history and what he sees as America's sacred purpose: unity in diversity, a purpose yet to be realized.
________________________________________________________