Welcome to the Ecology Prime Media Channel, home of Ecology Prime's podcast programming and other media offerings including video and music.
The Ecology Prime Media Channel strives to deliver an array of diverse voices to keep you engaged and informed—as well as entertained. We want EPMC to be your ultimate destination for a rich and edifying experience as we bring people across the world to join in a spirit of collaboration to tackle the urgent issues of our time.
Please check in with EPMC often as we continue to grow and offer you thought-provoking content!
________________________________________________________
Circle for Original Thinking ~ Podcast Series
with Glenn Aparicio Parry
Welcome to Circle for Original Thinking, America's electronic talking circle for visionary thinkers, an open forum for fresh ideas and timeless wisdom applied to today's political and ecological challenges. Each week we bring together creative thinkers from a variety of different traditions, asking the hard questions on the important issues of the day: political polarization, climate change, virulent viruses, and other symptoms of humanity being out of balance with the natural world. Our goal is to create a new and improved version of E Pluribus Unum, from the many to the one—and this time not leave anybody out. Join us as we embark on this quest.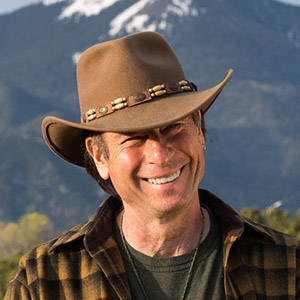 Our host, Glenn Aparicio Parry, PhD, of Basque, Aragon Spanish, and Jewish descent, is the author of Original Politics: Making America Sacred Again (SelectBooks, 2020) and the Nautilus award-winning Original Thinking: A Radical Revisioning of Time, Humanity, and Nature (North Atlantic Books, 2015). Parry is an educator, ecopsychologist, and political philosopher whose passion is to reform thinking and society into a coherent, cohesive, whole. The founder and past president of the SEED Institute, Parry is currently the director of a grass-roots think tank, the Circle for Original Thinking and is debuting this podcast series of the same name in conjunction with Ecology Prime. He has lived in northern New Mexico since 1994. www.originalpolitics.us
___________________________
COVID 19: The Big Ecological Picture
The problem with modern politics is that it excludes nature in its planning. Then, nature imposes her will—as she is doing now with the COVID-19 outbreak. What is the message and the learning in the emergence of the virus at this time? The spiritual elders of Colombia, the Mamos, are some of the few people who address the underlying causes to today's crisis. What does the virus mean not just in terms of the survival of the human species, but for all of nature? Mamo Daiwiku will be joined by Dr. Amanda Bernal-Carlo, a biologist who works closely with the Mamos, and Susan Kaiulani Stanton (Haudenosaunee/Native Hawaiian), founder of Grandmothers Circle the Earth Foundation, for an enlightening big picture overview.
________________________________________________________
Native American Contribution to the Founding Values of the Nation
To recreate a whole and sacred America, it is important to piece together the forgotten fragments of history that are currently keeping the country divided. The most significant forgotten piece is the profound effect Native America had on the founding values of this nation.
Join Oren Lyons, Faithkeeper of the Turtle Clan of the Onondaga Nation, author of Exiled in the Land of the Free: Democracy, Indian Nations, and the US Constitution, and Bruce Johansen, author of Forgotten Founders: How the American Indian Helped Shape Democracy, for a scintillating peak into the true history of America.
This episode will be presented in 2 parts.
___________________________
COMING SOON:
Native American Influence on the Founding Mothers
Native Americans not only influenced the founding fathers, they also inspired the 'founding mothers': 19th century women like Elizabeth Cady Stanton, Lucretia Mott, and Matilda Gage. These women paid taxes but could not vote, could not run for office, had no right of divorce, and should they separate from their husband, were returned to them by police like runaway slaves. Native women, on the other hand, were fully equal in their society and played an integral role in political affairs and in keeping harmony with nature. Learn the true story from Congresswoman Deb Haaland, one of only two Native American women newly elected to the US Congress, and Sally Roesch Wagner, author of Sisters in Spirit: Haudenosaunee (Iroquois) Influence on Early American Feminists.
___________________________
The Consequences of Humans Impacting Animal Habitats
Humankind has for too long considered land as an economic resource to be exploited rather than a bounty of sustenance for all creatures with which we share the planet. The cruel ways in which we treat domestic and farm animals, the mindless way in which we abuse the soil, water, and land, the encroachment of human settlement into animal habitat, lead to breakouts of animal pathogens infecting humans. All of this has brought us face to face with a doomsday scenario if we do not change. Join us as we bring together two enlightened advocates for a return to integral connection with the natural world for a scintillating episode of Circle for Original Thinking.
________________________________________________________
Thank You to Our Generous Sponsors!

________________________________________________________