Together We Stand Against COVID-19
NEW YORK, New York, April 17, 2020 (EcologyPrime News) – "We're all in this together," health and government officials have been repeating this refrain ever since the novel coronavirus and the deadly disease it causes, COVID-19, emerged in Wuhan, China at the end of December 2019. On March 11, 2020, the World Health Organization characterized the spread of COVID-19 as a global pandemic.
The next day, Director-General of the World Health Organization Dr. Tedros Adhanom Ghebreyesus tweeted "We are all in this together!"
The encouraging phrase has been on the lips of governors, lawmakers, broadcast anchors, and health care workers for weeks now, and the response has been overwhelming. Monetary donations, volunteer work, and simple acts of kindness abound in a world scrambling to keep the virus from spreading, a world where essential medical equipment is in short supply and healthcare workers are dying from exposure to the virus.
New Yorkers observing stay-at-home orders from Governor Andrew Cuomo open a window at 7 pm each evening, go out onto their balconies, fire escapes or rooftops and make noise for two minutes. They cheer, clap, bang pots and pans, and make music, to thank all the frontline workers risking their lives every day – doctors, nurses, healthcare workers, sanitation workers, postal workers, delivery drivers, and grocery store clerks – who keep things running under these critical conditions.
Italians under a national lockdown due to a virulent outbreak have inspired people around the world by singing and creating music together from their balconies despite being confined to their homes.
Locked down in Spain, people have taken to their balconies to clap and sing together.
In January in Wuhan, residents chanted "jiayóu," or "keep up the fight," for the city and its people.
In the United States, CBS TV has enlisted more than 50 of its stars to remind viewers that "you are not alone" because "we're all in this together."
On March 24, the network kicked off a new on-air and social media campaign, "We're All in This Together" with a 60-second public service announcement, with CBS talent sharing messages of connectedness and positivity they had filmed on their mobile devices.
The spot features CBS stars Los Angeles' LL Cool J and CBS This Morning's Gayle King. They reminded audiences that "we're still connected" and "we are here for you."
As the United States adjusts to the new reality of life under self-quarantine, artists and musicians are taking their shows online to share some musical joy.
With performance venues and bars shut down across the world, Billboard staff has compiled a guide to the best live-streamed music content https://www.billboard.com/articles/columns/pop/9335531/coronavirus-quarantine-music-events-online-streams. There's plenty to watch from the safety of the couch, thanks to everyone from the Dropkick Murphys to the New York Metropolitan Opera, from Miley Cyrus to Jewel, to DJ D-Nice, who hosted Michelle Obama last night online.
These public displays of solidarity do give people a sense of togetherness and the strength to go on amid the lockdowns, loss of livelihood and fear of illness and death.
More generous donors are filling gaps in an unprepared world taken by surprise by this disease, which has been confirmed in all the world's countries and territories.
Donors and Volunteers Support Medical Workers
To date, the virus has infected more than two million people worldwide, and the number of deaths now totals more than 130,885. The most severely affected countries outside of China are the United States, Italy, Spain, and Germany, according to the World Health Organization.
American Nurse Donna Phillips writing on a MoveOn email March 24 explains how dire the situation is. "I'm a nurse in Alaska," she writes. "Nurses and other health care professionals are on the front lines of fighting the COVID-19 outbreak and caring for our patients, but we're running out of personal protective equipment (PPE) in states across the nation. We don't have the right kind of N95 respirator masks to keep us and you safe. We don't have enough ventilators to keep the very sickest patients alive."
"This is scary," writes Phillips. "Our job is to treat and care for people, and we will not leave our patients behind. If we run out of equipment, health care providers and the patients we care for will die."
Now the donors are stepping up to help support the world's healthcare workers and systems faltering under the sudden influx of COVID-19 cases.
Chinese billionaire and Alibaba co-founder Jack Ma said he will donate 500,000 coronavirus testing kits and one million face masks to the United States.
"Drawing from my own country's experience, speedy and accurate testing and adequate personal protective equipment for medical professionals are most effective in preventing the spread of the virus," Ma said in a March 13 statement. "We hope that our donation can help Americans fight against the pandemic!"
Ma donated one million masks to Japan as of March 2 and had been attempting to ship one million masks to Iran as of March 6, according to his Weibo posts. In a March 11 post, he wrote that 1.8 million masks and 100,000 testing kits would go to Europe, with the first batch arriving in Belgium that week.
Apple is donating 10 million protective face masks to COVID-19 relief efforts in the United States. Apple CEO Tim Cook said on Twitter March 25, "Proud to share we've been able to source 10M masks for the US and millions more for the hardest-hit regions in Europe. Our ops teams are helping to find and purchase masks from our supply chain in coordination with governments around the world."
Facebook CEO Mark Zuckerberg said on Facebook March 22 that the company will be donating the 720,000 masks it had purchased as a protective measure against the California wildfires. "We're also working on sourcing millions more to donate. I hope you're all staying healthy and safe!" Zuckerberg tweeted.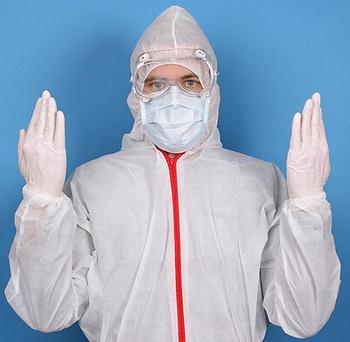 Crafts chain Joann Stores is making all of its 800-plus stores across the United States available for up to 10 people at each location to sew masks and hospital gowns, offering sewing machines and supplies, spokeswoman Amanda Hayes said. "We're enabling people to feel like they are contributing at a time when we don't have control," she said.
Smaller donors, too, are supporting healthcare workers. Fashion designer Briana Danyele left Italy last month to return to her mother's Greer, South Carolina, home, where she has turned the living room into a sewing factory, making masks that she embroiders, "We Got This!" Danyele made 200 masks bound for a local nursing home and hospitals in Florida, Georgia, Indiana and Illinois. "If I'm one person creating 200 masks, imagine what we all could do," she said.
In Spain mask-making volunteers include a group of nuns and members of the Spanish Air Force. In Belgium, what began as a one-woman operation about a week ago grew to a small army of home-sewing mask-makers within days. In Kosovo, inmates in a women's prison have volunteered to make masks.
Governments Offer Help With PPE Shortages
Chinese President Xi Jinping on March 22 stressed the importance of maintaining a sound China-France relationship as both countries battle the deadly coronavirus. Xi, who was paying a state visit to France, made the remarks upon meeting with French President Emmanuel Macron in the southern French city of Nice.
According to China's official state news agency Xinhua, Xi said China stands ready to work with France to fight the virus by encouraging all parties to step up coordination and cooperation within the United Nations and the Group of 20 (G20), engage in joint prevention and containment, improve global health governance, help developing countries and other countries in need with capacity-building, and cushion the pandemic's impact on the world economy.
On March 23, 50,000 medical masks from Changsha in south-central China were handed over to Bedburg city officials in eastern Germany. Written on the boxes was a German proverb, which translates as "Mountains and valleys don't come together, but humans do."
The donation came from the Sany Group, a leading Chinese construction machinery manufacturer whose European headquarters is in Bedburg.
The Paris branch of the Industrial and Commercial Bank of China (ICBC) has donated 40,000 N95 respirator masks to the Pitie-Salpetriere University Hospital in the French capital.
In Greece, the Piraeus Port Authority, operated by China's COSCO Shipping Ports Limited, has donated protective suits, single-use gloves and protective glasses to Hellenic Coast Guard officers.
KLM Royal Dutch Airline's partners in China – China Eastern Airlines, China Southern Airlines and Xiamen Airlines – have donated tens of thousands of medical masks to the Netherlands.
"The virus knows no borders. It is a common challenge for humanity," said Li Xiaosi, Chinese ambassador to Austria, last week as he witnessed the donation of 150,000 protective masks and 3,000 protective suits to the Workers' Samaritan Federation, an Austrian aid organization active in emergency medical services, by representatives of the China Railway Rolling Stock Corporation, the world's largest rolling stock manufacturer.
The U.S. Army Europe says it has delivered medical supplies and equipment to help fight the new coronavirus in Italy's hard-hit region of Lombardy.
The 405th Army Field Support Brigade delivered hospital beds, mattresses, stretchers, bedside screens, adjustable IV poles, folding wheelchairs, medical cabinets, and linens from U.S. Army Camp Darby in Livorno, Italy. U.S. Army Europe's commanding general, Lt. Gen. Christopher Cavoli, said the effort demonstrates "the U.S commitment to our NATO ally and the people of Italy during this crisis."
Doctors, Nurses Volunteer By the Hundreds of Thousands
Some 405,000 people signed up in 24 hours to volunteer with the British National Health Service (NHS) after a recruitment drive to help the vulnerable amid the coronavirus crisis, Prime Minister Boris Johnson announced. At a news conference, he said they would play an "absolutely crucial" role in fighting the virus.
The helpers are needed for delivering food and medicines, driving patients to appointments and phoning the isolated. About 11,000 former medics have also agreed to return to the health service and more than 24,000 final year student nurses and medics will join them.
Prime Minister Johnson tested positive for COVID-19 himself earlier this month and was hospitalized and placed in intensive care. On April 12, he tested negative for the coronavirus after leaving St. Thomas Hospital in London where he underwent COVID-19 treatment and spent several days in intensive care.
Spokesman James Slack said the prime minister is continuing to recover after being discharged from hospital. He now is at Chequers, the prime minister's country residence, and is "not immediately returning to work."
Captain Tom Moore, a 99-year-old British Army veteran who pledged to walk 100 lengths of his garden to raise money for the NHS, has become an international celebrity. Captain Tom, who will celebrate his centenary on April 30, set out to raise £1,000, but more than £13 million was donated after his story captured hearts and inspired donors around the world, the BBC reports.
Johnson said, "To all of you, and all the former NHS staff who are coming back into the service, I say thank you on behalf of the entire country."
This comes as it was confirmed that Prince Charles, the 71-year-old heir to the British throne, tested positive for coronavirus in late March after displaying mild symptoms. He is now out of self-isolation and in good health.
In the United States, New York State is the current epicenter of the disease. In late March, New York Governor Andrew Cuomo announced that 40,000 healthcare workers, including retirees and students, have signed up to volunteer to work as part of the state's surge healthcare force. Additionally, more than 6,000 mental health professionals have signed up to provide free online mental health services.
To date more than 222,280 coronavirus cases have been confirmed in New York State alone with 14,636 deaths, and the disease has not yet peaked.
As part of that volunteer surge, 1,000 retired health care workers in New York City came forward to join the fight against coronavirus in just 24 hours. "I think that's so inspiring," said Mayor de Blasio. "So many people are coming forward to help and that's how we're going to beat this back."
United Nations Offers US$2 Billion for the Most Vulnerable
UN Secretary-General Antonio Guterres has launched a US$2 billion global humanitarian response plan to fight COVID-19 in some of the world's most vulnerable countries.
"COVID-19 is menacing the whole of humanity, and so the whole of humanity must fight back. Individual country responses are not going to be enough," said Guterres at the launch, a virtual event.
"We must come to the aid of the ultra-vulnerable – millions upon millions of people who are least able to protect themselves," Guterres said. "This is a matter of basic human solidarity."